July 10th, 2015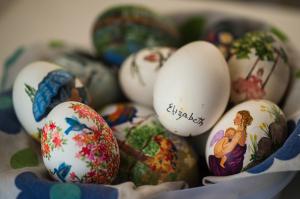 My godmother like many other members of my family is an exceptional artist. When I was a teenager I got to know of the Ostrich and Goose eggs she used to embellish into stunning pieces of art. Now in India, the chances of coming across eggs of both these birds is pretty rare. And that's when I decided to try painting on what was available - Chicken egg shells.

My dad being a craftsman, taught me how to drill a little hold at the bottom of the egg; he made the stands too for the final pieces. Since I hadn't heard of an egg blower or any other device which would clean out the insides of the egg, necessity became the mother of invention and I began using a surgical syringe to rid the eggs of the protein, A hair-dryer did the drying for me and I was all set to paint. I was vaguely aware of dyed Easter eggs and Faberge, also the ones with Ukranian designs using a kitska. But that's not what I had in mind. I wanted to paint scenes I would otherwise paint on a canvas. I wanted the smooth curved shell to be my canvas.

It didn't take me long to figure what kinds of paint were good for this and what wouldn't work. I cut off the bristles from many brushes since sometimes alI needed were 2 hair. I broke many eggs along the way too. They tend to jump out of the palm of your hand. I also learnt that empty egg shells are a lot tougher that you take them to be, Using a drill I also graduated into filigree work.

I find the odd duck egg sometimes but there's just something more enchanting about chicken eggs. It could take anywhere between an hour to a couple pf days getting one in order. Indian chickens are small and so are their eggs.

I do nothing to harden the shells or ensure they last forever, Well, they will last forever unless they fall and break; and it's this inherent fragility that I like to keep.

I've sold many of my pieces and have been told they make for nice little gifts. Feel free to drop me an email if there is anything else you would like to know about my EggCraft and I would be thrilled to reply.

Keep going.
June 22nd, 2015
When buying from an artist/maker, you're buying more than just an object/ painting. You are buying hundreds of hours of failures and experimentation. You are buying days, weeks and months of frustration and moments of PURE JOY.
YOU AREN'T JUST BUYING A THING. You're buying a piece of heart, part of a soul, a moments of someone's life.
Most importantly, you're buying the artist more time to do something they are passionate about.

Credits: The internet and someone who forwarded this to me
June 11th, 2015
If you can see a colour and tell what colours went into arriving at that shade, if you can show the transition from light to dark and back along shapes and contours, if you can bring brush strokes to life, if you can capture a thousand miles of depth in a resticted frame, if you can make someone rub their eyes twice to figure if its a photograph or painting, if you can see the finished work on a blank canvas when you sit in front of your easel and if you just keep getting better and better at all of this as you create piece after piece; you must know that this is a very rare gift and nothing short of magic.

My mother tells me off for short selling myself or not recognizing the extraordinary endowment received when it comes to being able to paint and create. As a child, I never quite understood her dismay, but now when I look back at my work and works of fellow-artists and how it has grown and matured, I realize that I do take all this for granted often. Most of us weren't trained in a classroom or didn't learn from the youtube revolution; we were there much before (we probably are the ones party to causing the youtube revolution to start with).

It is when I come across people who have never been able to draw more than a stick figure or paint within the lines, that humbles me to appreciate that what artists can achieve so naturally is indeed a privilege and genius. And we do short sell our talent now and then. I'm not talking about the price we may quote for our works. I mean that we must truly be aware of the fact that we are not what we are by chance. We are a community of very special individuals; elite if I may say so, for being able to do what so many across the world wish they were able to, with the same aplomb and ease.

Its okay to bask in the glory of our achievements time and again, to motivate our own soul - not because others have seen and applauded but simply because we have created yet some more magic and raised the bar some more. So once in a while, spread out your work and admire each piece, watch how you have grown. Celebrate.